DETOURS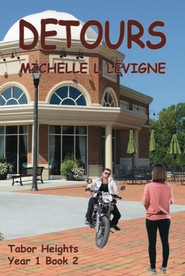 A year in the life…
 
Roommates Bekka, Kat, and Amy have a lot in common: Theater students, pursuing writing careers, supporting each other in crises and heartaches. Amy keeps breaking up with her boyfriend. Kat never dates a boy more than twice. Bekka is too busy with part-time jobs and writing to even want a relationship. Especially seeing how miserable her roommates are in their love lives.
 
All that changes when Shane shows up. Bekka lets herself dream, even through the turmoil of Amy's boyfriend following his dreams and the effect on Amy, and the damage done by Kat's stepfather, and the destruction of her mother's marriage and dreams. Life is hectic -- especially when a con man tries to steal Bekka's chance at making her own dreams come true. Can't she have at least one miracle? The problem is that she and Shane never seem to meet up -- and then somehow Kat and Shane start dating, and once she dumps a guy, he never comes back. Bekka can't help hoping, though…
 
COMMON GROUNDS
Hannah Blake has given up on being anything more to Xander Finley than his Gal Friday and partner in running Common Grounds legal clinic. Other than attending the same church, what else do they have in common?
 
Then the process of opening up a branch office in Tabor Heights becomes ... complicated. First they face resistance from a local judge and another lawyer who is a member of their church, and doesn't seem to have gotten the memo that he should be supporting them. Then they find the body of the 3rd victim of the White Rose Killer in their new office.
 
When the White Rose Killer seems to have chosen Hannah as his next 'true love', Xander's attentions become warmer and more personal. Hannah knows better than to hope this improvement in their relationship will last beyond the crisis. Foxhole love isn't any more real than foxhole religion, right? Xander, on the other hand, is glad his eyes have finally been opened.
 
The problem is convincing Hannah that he's for real. It's time to pray for more than her safety. After all, in the final analysis, what good is his life without Hannah in every part of it?
 
WHITE ROSES
Toni returns to Tabor Heights to help identify the White Rose Killer. He stalks young women who look like her sister, murdered twenty years ago. Is he the same boy, grown up, who left white roses on Angel's grave?
 
Curt found Angel's body, and he doesn't want Toni to be the White Rose's next victim. He reluctantly partners with her at the newspaper, to find the killer before he strikes again. To protect her, they pretend to have a relationship that slowly becomes real.
 
Their hunt becomes a race against time: find love and the White Rose before the killer targets them.
 
THE FAMILY WAY
Everything is going right for Lisa. Her comic strip is becoming a book, and she is pregnant -- finally, her critical father-in-law will admit she is a good wife.
 
Todd comes home in a foul mood and destroys her happy announcement with: "Is it mine?"
 
He tries to make things right, but everything he does only worsens Lisa's pain because he has never learned to apologize. Their marriage disintegrates, until his own sisters urge Lisa to leave him. Todd slowly, painfully learns to face family secrets, and break free of his father's poisonous influence.
 
Lisa knows she must forgive and learn to love Todd again, even as she wonders why. Todd never loved her, so why try to make their marriage work?
 
FORGIVEN
The hardest thing Nikki has ever done is go home to Tabor Heights, to the people who know how far she fell, and the hearts she broke. Working for the Arc Foundation, she is to assess the Mission for funding. She refuses to fail the God who has forgiven her, and let down her home church.
 
Released from prison, Brock follows Nikki home. Now that he is right with God, he wants more than anything to win her back, and make sure their love is the right kind. Nikki knows she won't find full healing until she forgives Brock, but she discovers she has to forgive herself, first.
 
FIRESONG
Dani has known all her life that God called her to ministry and music, even before her parents died during a short stint in missionary work. Her life revolves around her brother and the band they formed with their three cousins, Firesong. On the brink of breaking out in their career, Dani goes through several testing situations that confirm her in her path she has chosen, with no room for dating or marriage.
 
Kurt returns to Tabor to prepare for a crusade and reunite with old friends. He never expects Dani to capture his imagination, and then his heart. How can he convince the girl who once disdained him as an arrogant jerk to open her heart to him?
 
Conflict with their worldly manager forces Firesong to make some choices that could destroy everything they've worked for. Between the crusade, concerts, a new CD, and her brother marrying her best friend, Dani doesn't have time for Kurt's nonsense … but sometimes he gives her those looks that make her doubt everything she knows and believes.
 
BEHIND THE SCENES
Tony and Max are best friends. Writing partners. People swear he doesn't know she's a girl and she doesn't know he's a boy. When Tony goes away for a few months as a teacher, he realizes that empty place inside is Max-shaped. His revelation isn't something he can tell her over the phone. Every idea to tell her how he feels sounds like the plot for a book they would never write.
 
Then Max's parents are nearly killed in an accident. Tony drops everything to come home and be there for her and her brothers. He'll just have to wait until things calms down before he confesses his love. The only problem is, between the accident and the usual chaos of running a community theater and the world suddenly "discovering" where Max's mother, actress Emily Keeler has been "hiding" for the last twenty-five years, things might never calm down.
 
All Tony can do is prove his love by being her rock, drop lots of hints, and look for the best opportunity to make his case. Before the new guy in the tech crew makes his move. He's certainly been paying a lot more attention to Max than Tony is comfortable with.
 
Max has tried for a long time now not to want more, and closer, than what she and Tony have. With all the chaos of holding together Homespun Theater, staging a new production, and dealing with the paparazzi invasion, she shouldn't have time for useless wishing and dreams that can only get her into trouble. And yet …
 
THE MISSION
Claire came to Tabor five years ago to make a new start. Her life is wrapped up in the Mission, a former elementary school turned into an outreach center for Tabor Christian Church. They now have funds for renovations and expansion, thanks to teaming up with the Arc Foundation.
 
Paul comes to be the new head custodian, threatening her equilibrium. First, his daughter, Sammy, asks if Claire will be her new mommy, then Claire begins to fear Paul will take over, changing the vision and goals of the Mission.
 
Paul only wants a fresh start and a safe home for Sammy. The Mission's vision has caught his imagination, and Claire has caught his heart. She stands by him when his dead wife's vicious relatives threaten to take custody of Sammy to control her inheritance. In turn, he is there for her when some nasty family problems threaten to follow her to Tabor.
 
Teamwork for the sake of the Mission promises to become so much more, if they only have the courage to take a chance
 
ACCIDENTAL HEARTS
What do Abby Morgan, pilot, and Tyler Sloane, theater director, have in common? Siblings raising children on their own, a tendency for embarrassing accidents, and a voice deep inside asking, When will it be MY turn?
 
In a summer insane with activities and crises and demanding jobs, Abby and Tyler see an oasis of hope and love in each other … but crossing that desert of responsibilities and commitments might be more than they can manage. Is it a dream, or just a mirage?
 
Their every attempt to get to know each other fails, until in frustration Tyler decides he must stage the perfect romantic encounter if he and Abby are to ever fly off into the sunset together.
 
A QUIET PLACE
Jeannette Marshall marries Brody Evans despite the in-laws. Their love is deeper, stronger than what she feels for Nathan Lewis, her orphanage "big brother." Or so she believes. They plan on seminary and a big family -- but a year later, Jeanette returns to Tabor Heights widowed and pregnant, and driven away by her hateful in-laws.
 
Tabor Heights is home, her quiet shelter. With the love and support of her friends, she prepares for the birth of her son. With Nathan to be uncle to BJ, she has all she needs. Even if she sometimes wonders if she should have let Nathan persuade her to marry him instead of Brody.
 
Nathan realizes too late he loves Jeannette as more than a little sister. When she returns to Tabor, he puts aside his hopes for a second chance, positive she will never heal enough to love him that way. All that matters is that she and BJ are safe and happy.
 
Then the Evans clan comes to town, scheming and telling lies to get custody of BJ. Nathan will do anything to protect Jeannette -- but everything he tries seems to drive them further apart. Can he convince Jeannette what she means to him before it's too late?