FREE SHORT STORY
Until February 1

Mt. Zion Ridge Press will be launching a long-term project in coming months to release PRINT and AUDIOBOOK versions of my Tabor Heights, small-town contemporary romance series, and its sister series, Quarry Hall.
The plan is to release several new books in both series, when all the previous books have been re-released, with new cover art. Since there are 31 books between the two series already, this will take some time.

To celebrate this coming project, I have a short story you can enjoy now, for FREE, until February 1, when it will be officially released.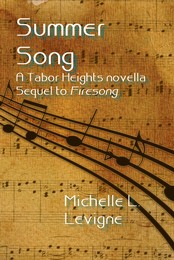 Until that time, the only place you can get it (did I mention it was FREE?) is through Ye Olde Dragon Books.

What's it about?

Sequel to the Tabor Heights novel, FIRESONG.
Dani has growing doubts about mixing marriage and a music ministry on the road. Then again, with as little time as she and Kurt can spend together, despite working for the same ministry, she might never see that engagement ring. Four weeks at a teen music boot camp gives them time together, but the egos and politics that converge in one place might threaten everything.