Steward's World -- Book 1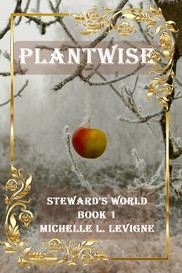 On her christening day, Princess Arden was Gifted with plantwise magic, a blessing to her father's farming kingdom of Westerland. Immediately, schemers began working to arrange a marriage between her and Maddix, prince of Stonemount, the neighboring kingdom and ally of Westerland.

Guided by agents of the despot, Durmad, Maddix grew up preparing to take over multiple kingdoms, by any means necessary. Arden was the first of several targeted brides, to marry, give him sons, and use those sons to take over their grandfathers' kingdoms.

Just in time, Arden resisted and escaped Maddix's schemes. To punish her, he stole the magic apple tree she created to defend Westerland, then he set out to destroy those she loved. With her daughter's life in the balance, Arden devised a desperate scheme to humiliate Maddix and save her child.

Her mentor warned her many times not to play by Maddix's rules, or she would risk losing everything. What would it take for Arden to learn that lesson -- and would she learn it in time?

Available in print, ebook and audiobook from Ye Olde Dragon Books.