The RELAUNCH of the Tabor Heights series.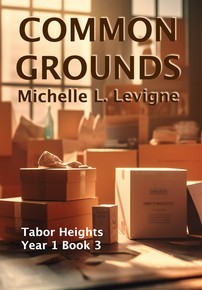 For a few years, the Tabor Heights books were only available as ebooks.

Now, every other month, you can get a new book in paper, ebook, or audiobook.
Coming November 15: COMMON GROUNDS

Hannah Blake has given up on being anything more to Xander Finley than his Gal Friday running Common Grounds legal clinic. Then the White Rose Killer seems to have chosen Hannah as his next 'true love', Xander's attentions become warmer and more personal. Hannah knows better than to hope this improvement in their relationship will last beyond the crisis. Foxhole love isn't any more real than foxhole religion, right? Xander, on the other hand, is glad his eyes have finally been opened.

The problem is convincing Hannah that he's for real. It's time to pray for more than her safety. After all, in the final analysis, what good is his life without Hannah in every part of it?


Check out Mt. Zion Ridge Press for information, or you can obtain ebooks and audiobooks from my other website, Ye Olde Dragon Books.