Here There Were Dragons
AFV Defender Book 2

Coming this fall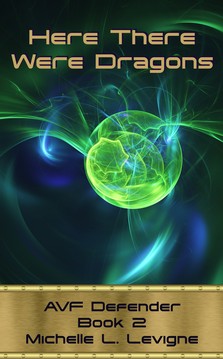 Dracs: the gift that keeps giving. And making life very interesting for the crew of the AFV Defender.

Odd stellar phenomena near the drac homeworld and a forbidden continent full of technology-killing nanites are just the tip of the iceberg. When a spoiled brat ambassador's plot to get his hands on dracs is foiled, he sets out to make trouble for the ship's drac parents.
_Then a Chute opens up near the drac homeworld, leading to a planet with dragons in their legends. Despite proof there are no dragons on the planet now, the ambassador breaks dozens of Alliance regulations, determined to have his own dragon. His lies and schemes lead to the Defender being sent to start diplomatic negotiations with the matriarchal society of Castitarus.

The misfit luck of the Defender is hard at work. Male crew are kidnapped. The dracs become allergic to people. Granny stows away. Female officers are offered diplomatic gifts of men. And the crew find themselves in a race against time to find a cure for a virus that turns grown men into children and brute beasts.

A typical mission for the crew of the AFV Defender.