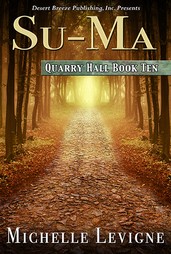 Still suffering from the death of her companion dog, Su-Ma's mental state affects her body, confining her to a wheelchair. Looking at life from doorknob level changes her perspective. Despite self-doubts, she accepts a touchy, crucial assignment.

Haley is being used to infiltrate Arc. Su-Ma must mentor her and keep her from betraying them all. They play "God's 2X4" for each other, and work past old hurts and pride. Su-Ma lands in the unaccustomed role of counselor when Haley discovers the depths of the betrayal and manipulation, setting her up to destroy Quarry Hall from within.

As the enemy's plan unfolds, Su-Ma regains her spiritual, then physical feet. She surprises herself when she stands up against attack, defending her home and family. Encouraged, she takes her first steps on a new path in life.