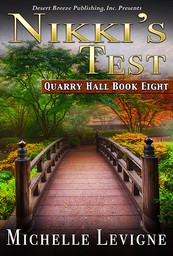 Nikki's first courier job included picking up Brooklyn from vacation and bringing her home to Quarry Hall. Before she got there, Brooklyn called, speaking in code, hinting at mysteries and danger. When Nikki arrived in Harper's Point, Brooklyn was nowhere to be found.

Staying in town to search for Brooklyn while pretending not to suspect anything was harder than it sounded. Her questions never got the same answer twice, and it wasn't long before she decided people were lying to her, and then spying on her.

A letter from Brooklyn provided some answers and Quarry Hall got to work. Joan hurried to Harper's Point, fearing for Nikki's safety. Before she could arrive, the enemy struck. Now the question was if Nikki's training would keep her and Brooklyn alive until rescue came.