Welcome to the website for Michelle Levigne, author and editor.

Here you can explore and learn about the various worlds of my imagination -- science fiction, fantasy, romance, steampunk, YA, inspirational, women's fiction. Yeah, I have a lot of books and a lot of universes and storylines for you to explore!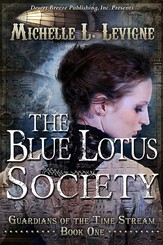 Here's the cover for my next book to be released. THE BLUE LOTUS SOCIETY is coming out in October from Desert Breeze Publishing. Steampunk, its the first official book in the Guardians of the Time Stream series ... although the prequel, ODESSA FREMONT, is already released. Check it out!